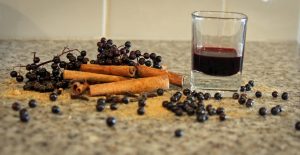 Hello!
Thank you for visiting our website. We are so glad you stopped by.
Our family business started in the fall of 2019, after I set out to find a tasty and safe way to help our kids fight allergies and stay healthy throughout the school year. Prior to having children, I worked as a registered nurse in the hospital. Since having children, I have had the opportunity to channel my nurse heart towards helping my family, and many other families, work to stay healthy, in natural and preventative ways.
We made our first several batches of syrup from the wild elderberries that we found growing on the perimeter of our acreage. We quickly found out that our syrup wasn't just a favorite of our family, but for many families. The demand for our syrup has led us to source elderberries from a wholesale supplier. Although we are now in the process of growing elderberry plants on our land, we will continue to source elderberries from our wholesale supplier, in order to ensure we have enough supply to keep our syrup in your hands. 
We are a big family with many small children. We know how quickly germs can spread in a home like ours. We also know how beneficial it is to keep our immune systems boosted year round. Our hope is that you will find this syrup as beneficial to you and your family, as we do to ours.
We appreciate the opportunity to serve you, and we enjoy the opportunity to teach life skills and values to our children, through this business adventure. 
Thank you for your support! Our entire family is grateful!
Stay healthy!
-Kayla Squier & family